Babydolls: Shorties but not Shortlived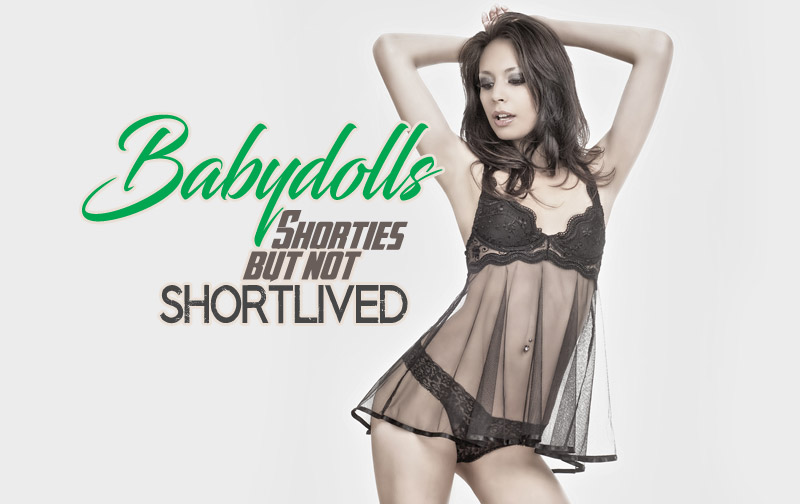 The category "babydolls" very frequently pops up when you're on and about your lingerie shopping escapades. It's a given, what they are, from deducing its length and material after going through a myriad of them but if you have the interest and time, there is actually a lot to know about this little nightdress. Alternatively known as "shorties," babydolls are fresh blood in the lingerie scene. As fresh as – say, the early '40s? Created to tackle the issue of fabric shortage in World War II, American lingerie designer Sylvia Pedlar designed this jolly short nightgown. The negligee earned its favor from the general public due to its sexy and playful yet innocent theme, allowing wearers to present themselves as youthful yet mature. Furthermore, the babydolls were acclaimed for their practicality in an era before air-conditioning due to their material minimalism and became a trendy alternative to the traditional pajamas and then-popular long nightgowns.
The babydoll peaked and prevailed thereafter in fame from the 1956 film Baby Doll, in which a young but sexually precocious character dresses in the then provocative nightgown, essentially giving it its name. A significantly notable stepping stone in its trend is in the late '50s when the famous glamour painter, Gil Elvgren, started depicting frisky calendar pin-up women dressed in babydolls. Its vogue further rocketed in the '60s when Hollywood films then frequently portrayed starlets dressed in them, coming up with even sexier variants for their publicity shots. In the '90s, babydolls became a distinguishing factor of the "kinderwhore" look brought about by the then-popular female grunge bands.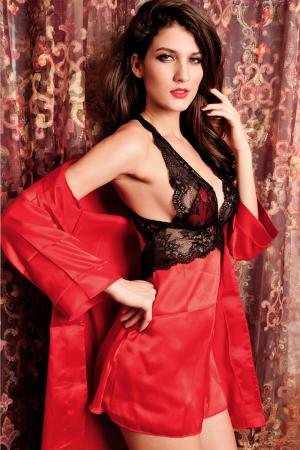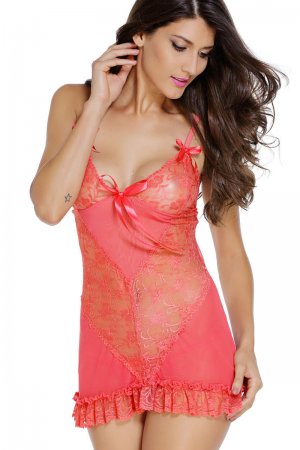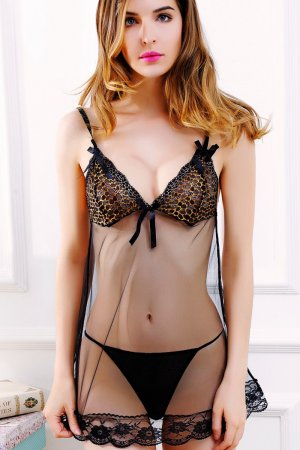 As its popularity progressed, babydolls became available in such an extensive spectrum of unique styles that the lingerie retail community now simply considers them an individual, distinct department on its own. Contemporary babydolls have so much in dissimilarity as compared to the designs produced in the '60s and 70's that now, the old versions are deemed as vintage collectibles. Of the distinct styles available now are the babydolls that open up at its front, resembling a peignoir or a robe.
Today, the baby doll dress, as a distinct lingerie category, has become a standard loose term for a nightgown that is at least half-a-foot above the knees. That being said, it presently can serve two areas of purpose: a typical everyday nightie which provides practical airiness for the regular home and a mostly lacy, scanty overall that provides an erotic ambiance in sexual fantasies. Conceivably, a version that is even shorter than the conventional babydoll designs have arisen – the camidoll, typically worn with a matching panty, g-string or thong. Together, babydolls and camidolls have even been trending recently as outerwear in the past few seasons, worn over casual clothing such as skinny jeans and leggings.
All in all, the babydoll, being a relatively new genre of lingerie, has not only thrived but excelled revolutionarily through the underwear and, recently, outerwear markets. Intrinsically bearing its innocent but sexy and glamorous style, it's no wonder that it made it this far as what started out to be an unconventional lingerie design.
Comments (0)