Top 8 Sexual Desires of Every Man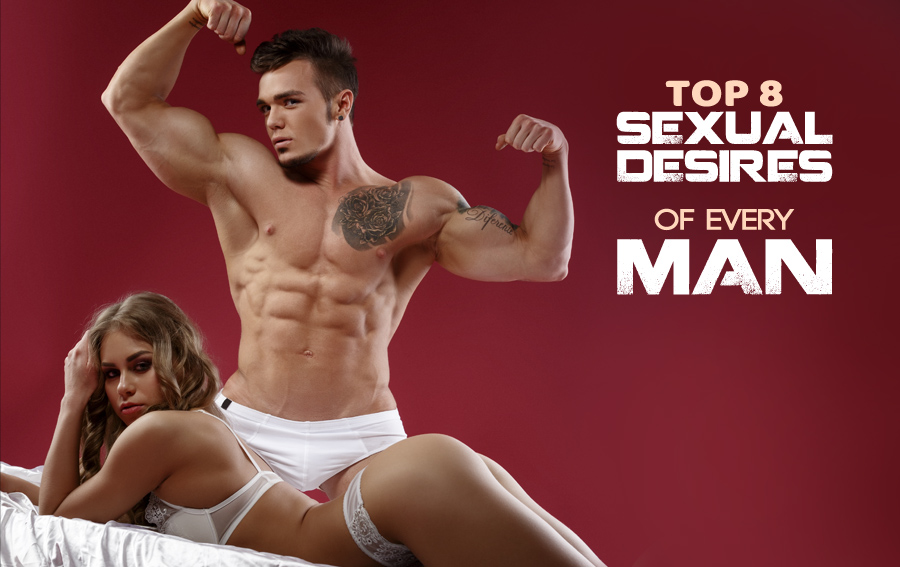 Men like to play hard and wild when it comes to getting steamy and hot with their partners on bed. They would not only crave to have you by your side but would also love to try every new stuff with you. Sex is all about experimenting new kinky stuff with your partners and men like to have it all rough and passionate. Here is a list of common sexual Desires which every man dreams of. All you need to do is set his mood right to drive him crazy for you.
1. Men love to hear their girl moaning for them
For men, satisfying their partners tops the list of their secret fantasies. Yes, you heard it right. Men are overly conscious when it comes to make their partners yearn for more during the steamy session. Therefore, those mournful noises encourage them in the lovemaking session with their partners. You can actually make him fall in love with you head over heels with those writhing in pain moaning sounds.
2. Men love foreplay moves too
It is a pre conceived notion that it is only women who really enjoy foreplays. Well, foreplay is something men also look forward to. He would love it if you are open to experimenting new stuff including things like striptease, spanking, massage or anything that can drive him insane.
3. Bang on, take the charge on bed
Men love it when women are actual players in sex sessions. If he is really into you, he won't mind you governing him in the game of sex. He would really enjoy it once a while. All you need to do is make him feel worth it. Just make him realize that queens can do it better and he wont regret giving you more chances to rule him under the sheets.
4. Men too love cuddling and spooning like women
Men also yearn to be craved to be touched on their most sensitive parts. It is just a stereotype that men are alien to feelings and emotions when it comes to sex. They also love to be kissed and pampered before they can grab their girls down there.
5. Men love to hear dirty talks during lovemaking
Nothing can be better than being expressive about how you feel when you are with him. Being vocal would not only make him feel more comfortable with you but also help him what you like better. You can make him fall in love with you even more if you can complement your actions with words during your sexual intercourse. He would definitely love it if you tell him how good to feel being with him.
6. Men love being tempted by their girl when it comes to sex
Men may deny it but it is a fact that you can turn him on by merely dressing seductively or wearing that red lipstick to make him want you more. You don't always have to be naked to give him a hint that you want to have sex with him. He would appreciate other hints more than that and results can be wonderful.
7. Men love it when their girl initiates sex
Men love the feeling of being wanted as much as women do. They fantasize about their girl making them feel special and loved. They enjoy it when they don't have to beg or plead for sex with their partners.
8. Variety is the spice of life when it comes to sex for men
Men love to be aroused in bed. He would love anything from sizzling bedroom games to eating you with chocolate syrup. Well, men don't shy away from taking different positions and they fantasize about it all.
Comments (0)