Feel the Sensuousness with Exotic Baby Doll Nightwear
Lingerie not just provide you a sensuous look but pampers your body and adds to your feminity as well. A great lingerie set can turn ordinary evenings into exotic ones. Many women don't register their intimate wears and expect some sort of magic on the romantic evenings which is completely unrealistic. After a long and tiring day, your partner may want to see you in a sultry look and anticipate some teenage mischief. When you show up as a diva wearing an irresistible babydoll nightwear, your man goes crazy and his emotions explode.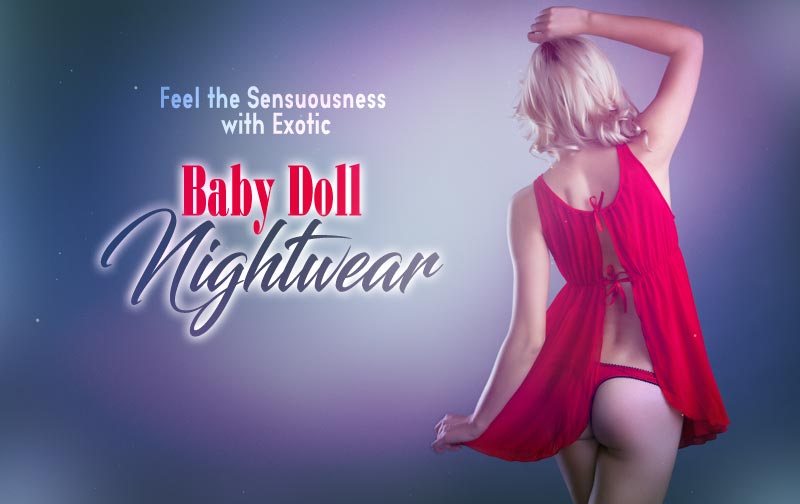 Your Baby doll Tells You Who You Are
If you are in a relationship then nightwear make it spicy and if you haven't met your dream man yet then you never know when that man comes out of your dream and awaits you in your bedroom. A babydoll nightwear simply increases your grace and lets your wild fantasies blossom. Many relationships don't last long as women can't find the seductress inside them. The fabric, the style and the boldness of intimate wears make you feel special. When the garment enveloping your curves speaks loud, you simply discover your inner diva.
Babydoll Creates a Sexy Aura
You feel confident when you are in a comfortable outfit. Babydolls don't compromise with your comfort and give a sexy touch to your appearance. When you flaunt your curves in a gorgeous intimate wear, your charm is spread in the complete bedroom. Your appeal is amplified when the right style and fabric hug your awesome curves. The eyes of a man always seek some exotic treats while being on a special date. It's your responsibility to leave your partner agape with sizzling and bold babydoll nightwear. When you want kinkiness in the relationship, there is no space for shyness. Flaunt your body with pride wearing the pampering babydolls. When you got the right style, nothing can stop you from being sexy.
Why is Babydoll a Must-Have In Your Wardrobe?
The babydoll nightwear is available in different colors, sizes and style. You can choose one according to your mood. The seductive babydolls are also available in different fabrics like satin, cotton, lace, silk and chiffon. The babydolls make a wardrobe special. They are specially designed for special evenings. The exotic nightwears are available in different price ranges so that your pocket doesn't have to bear any pressure. You can either go for a plain colored babydoll to start things in traditional way to grab the printed and exotic ones to call forth some adventure.
A lingerie set always hugs your skin very closely and hence it should be purchased smartly. There are plenty of sexy lingerie websites out there in India with have attractive baby doll dresses for sale at reasonable price bands. Choose an intimate wear focusing on your requirements and comfort so that you get the best value for money. The type of intimate wear also decides the length of your foreplays. The more your man is charged up and cool, the longer will be your naughty games. Gear up for oodles of confidence this romantic season and turn the heat up before hitting the couch or bed.
Comments (0)