Must Have Lingerie Glossary - Part II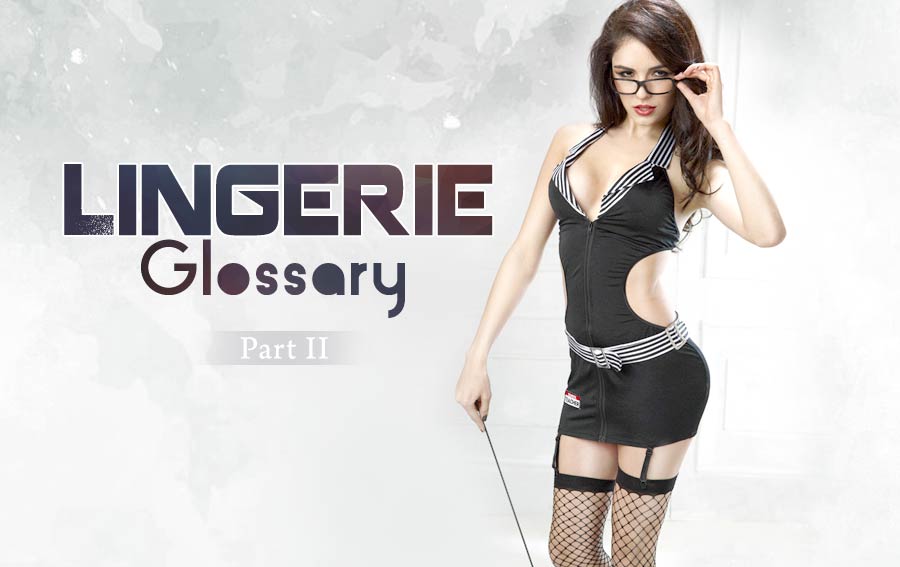 So here we are, back with your must have lingerie glossary - Part II. The last one that we brought to you were till A to H and we bet, you have been waiting all these days to have a look at the rest of the alphabets. So here goes, the list of popular lingerie items for Alphabets
I
Inner Sling:
Also known by the name of support panels inside the cups, these slings are usually strips or fabric that is curved to provide additional support. These act as an alternative for under-wires. These generally cover half of the cup or the full cup.
Interlining:
Interlining is a padding inside the inside the cup to provide warmth. These also act as stiffening fabrics.
J
Jersey:
Plain knit fabric innerwear for best comfort. Generally made of wool, these are mostly used as sleep in innerwear.
K
Inspired by the Japanese traditional wear, these are robes that come with wide belts and broad sleeves. These are generally used to wear over nighties and innerwear to cover the body.
L
Lined Cup:
These generally refer to the bra cups that have a lining on the inner side of the bra. These linings provide extra support and help to reduce the nipple show.
Link Ups:
These are stocking attached that can be used as an alternative for garters. This holds the stocking with the panty or thong. These are interchangeable and provide extra support.
M
Maternity Bra:
Specially designed and crafted for pregnant women, maternity bras provide extra support along the wider sides and under the bust line. These reduce bounce and provide complete breast coverage to prevent breast tissue irritation.
Molded bras:
Molded bras are made of single piece of fabric and provide coverage without any seams. These bras generally come with or without underwires. They create a smooth seamless silhouette and come in various designs. You also get a range of laced one with or without padded cups.
N
Negligee:
Negligee is generally used to refer to flimsy night wear for women. These are lace trimmed and are see through short or long night gowns that look extremely sexy.
Usually means night wear that women put on while going to bed. These are generally comfort wear and made up for skin friendly, soft fabric.
No-Wire Bras:
As the name suggests, these bras come without a bra and make an excellent everyday wear. These bras are also available with pads for inner lining.
Nursing Bra:
Specially designed for breast feeding mothers, these bras provide strong support and openings in the front for convenient breast feeding.
P
Padded bras:
As the name suggests, these bras come with a fibre pad attached to the cups to add to size of the breast and make them look proportioned.
One piece of garment that comes for both your legs and can be attached to the panty and waistband. These are transparent and look somewhat like stockings.
Push-Up Bras:
These bras come with added padding on the lower portion of the bra cup to give an extra push to the breasts therefore, creating an illusion of larger breasts. These bras also give you a deep cleavage.
To know more about lingerie glossary, stay tuned for the next part of the article. To shop for the I-P of lingerie items, log on to www.privypleasures.com
Comments (0)