Spice Up Magical Moments with Sexy Babydoll Dresses for Brides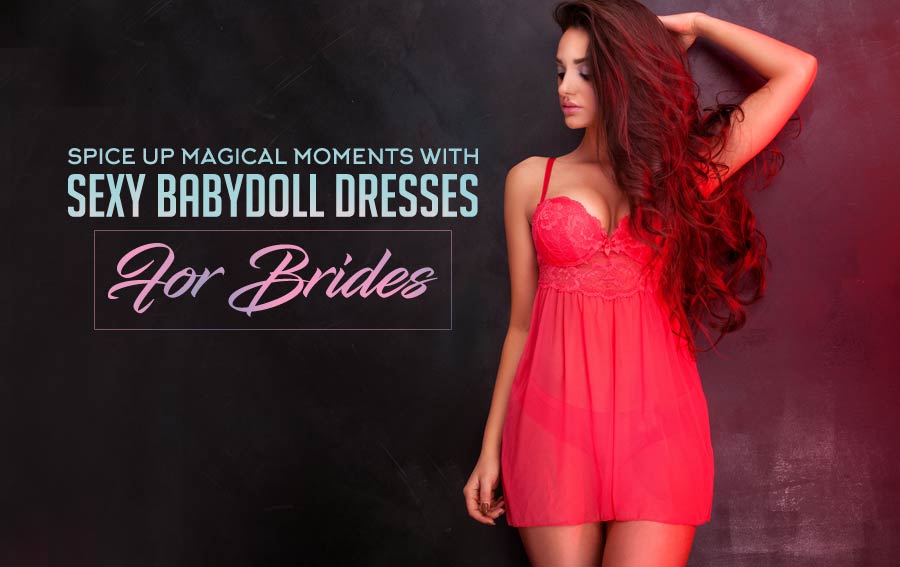 For the Brides to be, there is something sexy and spicy for you to don - Babydoll Dresses!
Your mind is flooded with a plethora of exciting things you want to see and do. And one of the most important things playing an essential role is lingerie. While there are different types of lingerie available to set the mood right, you cannot close your eyes to those Sexy Babydoll Dresses no matter how hard you try. You are likely to fall for them and end up grabbing some of the most appealing styles that are enough to make your drool over you at the very first sight.
So what is a Babydoll Dress?
A babydoll dress, when worn whether on the first or any other night, makes every woman ooze oodles of sensuality from every inch of their curvaceous figure. In fact, it raises heat between the couples making them practice love between the sheets. These nightwear dresses are gaining immense popularity among women from all walks of life.
Here are some of the hottest styles in babydoll dresses for the brides to be:
1. Sexy Transparent Nightwear
All you gorgeous ladies out there blessed with a voluptuous body, you cannot afford to ignore see-through lace bras and panties. Flaunting those amazing curves through the sexy transparent nightwear will make you seem tempting. It's good to avoid wearing regular panties be it your first night or honeymoon. Wearing lace thongs will make your night a memorable affair to cherish for long,
2. Vintage-Style Robes
Ever thought of donning a sexy lingerie wrapped with the vintage look? Enter vintage-style robes. Women are nowadays are beginning to realize the true importance of babydoll dresses with robes. This is an extra layer of clothing that's usually found in fabrics including net, lace and mesh. Make sure you keep it on the lighter side if you really are looking to a romantic evening with your partner.
3. Full-Length Babydoll Gowns
How about taking your partner by surprise with a full-length babydoll gown? These gowns are extended along the length of one's body line. You can get these dresses tailored according to your specific requirements. Wearing a sexy gown with a front slit will definitely make your partner fall head over heels in love with you.
4. Plush Printed Babydolls
Aww, ladies! You cannot stop yourself from wearing the sweet frock-style babydolls, can you? These babydolls are those cute gowns that make you look graceful making your partner caress you like never before.
No woman would be able to do without a sexy babydoll dress in their wardrobe. Being an absolute wardrobe essential, these dresses are also called babydoll nightwear and babydoll lingerie. Ask any woman with a fondness for babydoll dresses and they will tell you what it's like donning one on the most special night of your life i.e. honeymoon.
Final Words
A Bridal Lingerie is probably the sexiest among all the types available. It's every woman's dream to wear a lingerie on their special night that increases their partner's heartbeat. With a fine blend of heavenly touch and a spray of eroticism, these intimates will pep up those magical moments between you and your partner making both of you lose control.
Comments (0)