Be Naughty By Wearing Fully Transparent Nightwear - Have Exotic Fun
Just as kids are attracted to open box of chocolate so are men attracted to the women with transparent nightwears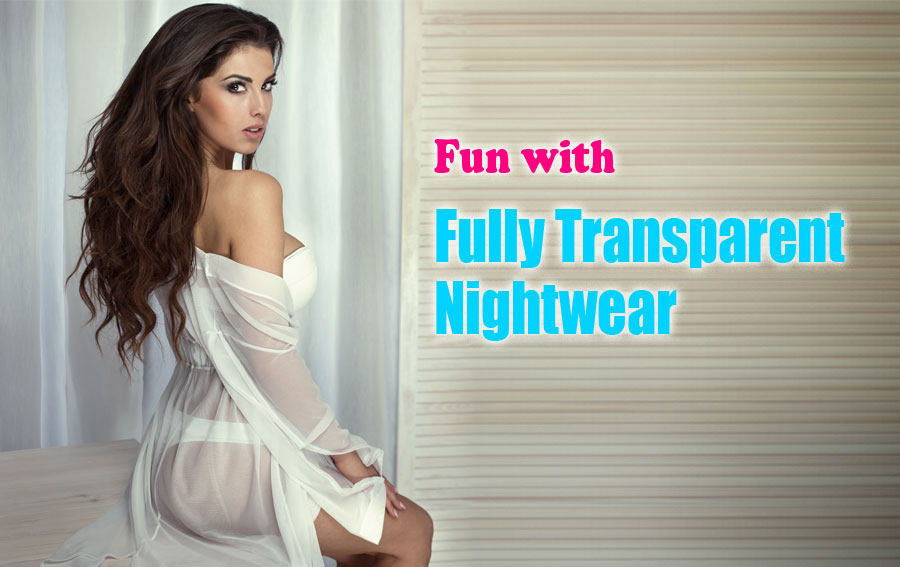 Wearing fully transparent nightwear for added fun is an excellent idea and has stood the test of time. The proverb less is more holds the truth in the case of fully transparent nightwear. Beauty should be concealed; a fact but at times the revelation of beauty is the demand of the hour.
Importance of sexual pleasures can never be denied. From time immemorial nightgowns and that too transparent ones have held their significance for seducing the mate. Be the ancient Ajanta -Ellora transparent or the traditional lacy transparent or all-time favorite transparent panamas. They all have led to maximum delight in having fun during the sexual activities.
Importance of foreplay before delightful intercourse has been well documented and good, Sexy Lingerie simply leads to it. The pretty and appealing nighties for the special moments of life is undeniable. The transparent nighties create the apt mood and also lead to the mood, and proves to be highly beneficial. You partner will love what he will see.
Those intimate moments are genuinely exclusive and Transparent Nighties make you more tempting and ardent at that point. Transparent nighties have well-formed cups for the cleavages and show the best of the assets, so they are apt to have more fun. The fully transparent nightwear are awe-inspiring and help to move through the night remarkably.
Extra Mystery is of No Help
Leaving something for the imagination is good but at this mysterious imagination can be a turn-off. The fully clad nightwear could result in the loss of spark or the moment, and thereby nothing could occur. Just as kids are attracted to open box of chocolate so are men attracted to the women with transparent nightwear. The nightwear is soft to touch and gives a feather like feel on the body, drawing the partner and making him eager to run his hand on the softness of the skin and nighty.
Transparent Nightwear is very light and is made of soft fabric that is just like your second skin. The whole night or the moments can be well spent in them. They simply add to the fun rather than creating any blockage in fun. They look fabulous and add to the hotness. The comfort and solitude of this nightwear creates a more romantic atmosphere.
Transparent night wears are also referred as the baby doll nighties and along with there is matching lingerie to make you look sizzling, hot and seducing. Theses nighat wears are essential for a honeymoon, first nights, special dates or to lead to those special moments. Grab your piece of appealing and exciting fully transparent nightwear for added fun and ignite the spark between you. The transparent nighties are of wide variety and come decorated with lace, net, embroidery, edible, magnetic and add to your stupendous looks. They come in different fabrics, types, and designs and help you look more alluring.
Comments (0)