Lingerie & Body Shape - Look Gorgeous with Your Curves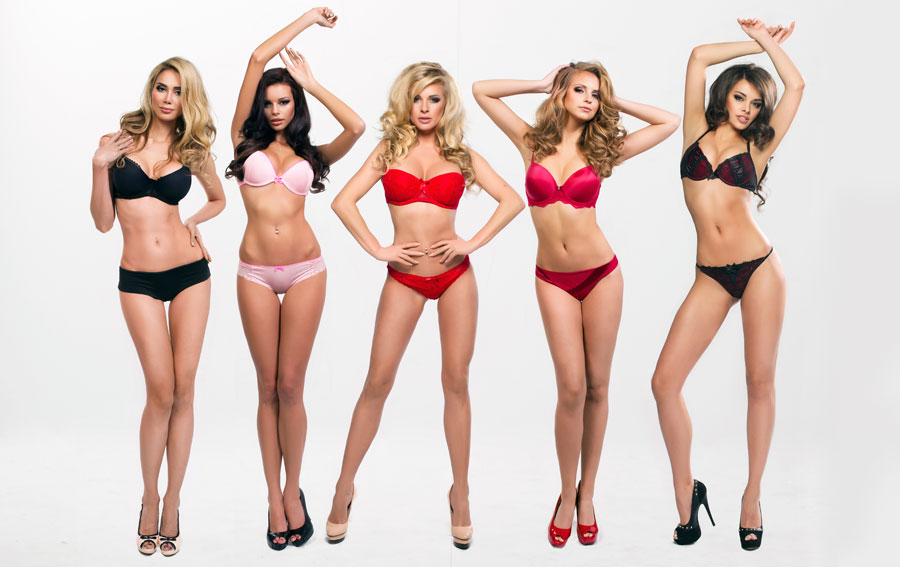 Curves are sexy! Make it sexier with choosing the right lingerie according to your body shape.
Everyone has a lot of personal preferences in Lingerie Shopping. What we consider sexy may not be really sexy at all. Sometimes, a trimmed boy shorts and a padded brassiere gives that perfect allure for some; for others bustier look can be the best art of seduction; for a few, the best is achieved only in thongs and revealing lingerie. Preferences are varied as so is the styles of lingerie.
Apple Girl
Apple is the forbidden fruit! Women with apple shaped bodies are likely to have wider waistline, while bust and hips constricts. Any lingerie that can elongate the body line will make wonders on you. Choose the lingerie with deep V-necks. Choose one-piece lingerie over bra and panty set.
Ballerina Girl
You have a slender and muscular physique. Take the pick from longline bras, push up bras, electric lingerie and other high waist lingerie to flatter you. Go slightly edgy with halter neck lingerie and a matching thong or panty. The sporty silhouette sends that hot vibes and show off your athletic body. Go for the high necks, to create more of a mystery. Being a ballerina, you can hide some surprise for your man in high neck lingerie
Busty Girl
We have to accept the fact. Not a lot of lingerie are designed considering the busty women in the line. Well, you don't need push-up bras and the curves naturally comes to you.
Fashionable underwire options are just made for round and fuller bosoms. Besides, demi style brassiers, balconette and a low cut chemises will also tastefully accentuates your natural curves. Know your breast type and shop lingerie to flatter the bosoms. For bottoms, you can just go for thicker waistbands, and boy shorts.
Pear Shape Girl
Pearl girls carry that heaviness in the hips and thighs. You should carefully create curves and make the bottom flattering, not fattening. Shop for lingerie that enhances your breasts and down plays your bottoms is your cup of tea.
Frills will be a great idea to highlight the bosoms. Choose boy shorts or French knickers which gives the perfect coverage to the bottom, highlighting the top. Thongs and lacy briefs aren't really your thing. Choose something that can cover the hips and thighs, giving attention to sexy silhouette.
Plus-size Girl
Plus size girl generally carry some extra weight on and off different parts of the body. So, one-piece lingerie is the best bet to flatter your figure. Baby Doll Costumes suit any plus size women. The key is to choose the delicate fabric and the color that accentuates the shape and hides the flabs. Dark and daring colors makes the best bet. Avoid nude and pastel shades.
Carrot Body Shape Girl
You are a carrot girl if you have wider top and gets slimmer towards bottom. Choose the lingerie that can flatter your shoulders and the styles that promote a symmetrical outlook.
Ruler Girl
Just like a ruler, you look straight and flat with no curves. Find the lingerie that can enhance and flatter some curves. Sweetheart neck line lingerie and padded bras will do wonders on flat body. Say no to thongs and go for high-waist undies.
Hourglass Girl
That's more of a perfect shape for almost all types of lingerie. Narrowed at waist, you will have hips and chest equally proportioned. This is a classic shape and you can just go extremely sexy in this body shape. Unless you wear suspender, just don't bother about wearing any style of lingerie.
Lingerie is versatile in all facets, from charm, sex appeal, shape, styles, mood and even personality! So, shop for your shape, that make you look gorgeous.
Comments (0)