Edible Lingerie as the Perfect Hot & Cheap Romantic Gift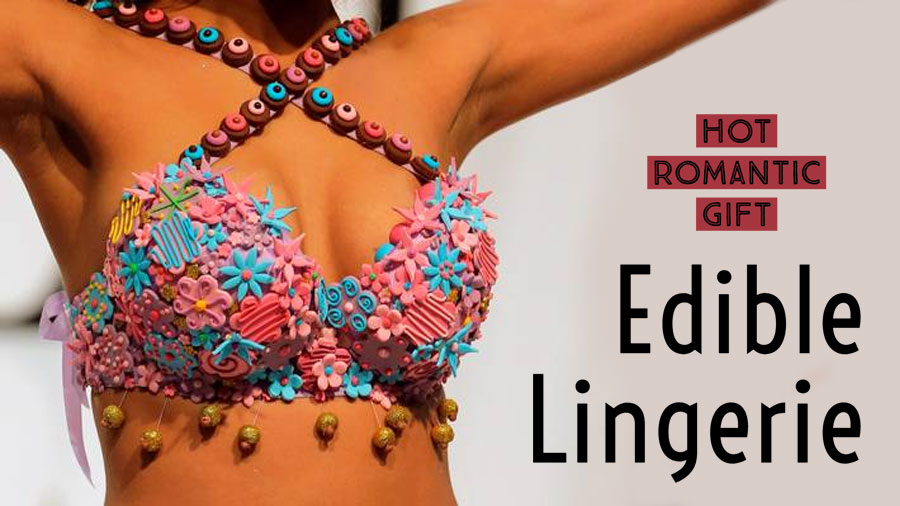 Looking for something unique and hot to raise the temperature in and out your body? Try out edible underwear and spice up your daily life a little bit. How about wearing sweet and different flavored candies as your Sexy Underwear? If you're already well aware of edible lingerie, you must be knowing that the trend is growing quite fast in this sexy world. Though most of the users do not open up, it's a fact that its use has been quite popular these days. Let's know more about the spice.
Edible lingerie has been playing a sexy role in the bedrooms since 1975. When you feel daring and wish to try something new and sweet, give a chance to this lingerie. Your romance department will get really sweet with the yummy pairs. And guess what? These are not only for women. Yes, even men can try out the edible undies. And there's a wide range available in the market. The primary categories women are gummy parties, G- strings, chocolate thongs, crotch pouches, and candy bras. Isn't it sweet and hot at the same time?
Ideal for Gifting Purpose
You can get these for yourself whenever you wish to try them out. No big deal if you get addicted to these sexy edibles. They're pleasurable enough to make you addicted. But these are also ideal for gifting purpose. Imagine your bride-to-be friend opening a gift box to find a pair of sexy edibles to spice up her first night (make sure her mother and grandma is not at home when you gift her these yummy candies). Quite kinky, right? But your friend will definitely thank you loads after trying them with her partner. So, don't forget to get this cheeky gift for the next bridal shower party that you visit.
Make Every Occasion Worth Remembering
It's not your fault if you're thinking of gifting it to your someone special. The lingerie itself is romantic and sexy enough to drive these thoughts in your mind. If you're preparing to make your valentine's day special, or your anniversary memorable, don't give a second thought to this sexy idea. This can be a perfect romantic gift for your partner. What else? These sexy and yummy undergarments are available at a very cheap price. You don't have to pay a fortune to avail the lingerie as well as the pleasure that it awaits. Moreover, these are available in a wide range of flavors. So now you can wear what you like to taste. Your mind must have started planning for that perfect night. What else can you ask for to select a perfect romantic gift? Now get the pair of your favorite flavor lingerie and gift it to your partner. Something as cheap can never provide you so much of satisfaction and pleasure that these edibles are capable of providing.
A Perfect Cheap Romantic Gift
Ready to explain the term "love bite" in a sweet as well as spicy way? Mark this as a note for the next valentine's day present or anniversary present or birthday present for your love. Something really sexy, with a mixture of sweet and wild, awaits you in the pack of edible lingerie. Boys, you can't get anything as perfect for you and your partner as a romantic gift other than the yummy "edibles". If that's not enough, pair them up with some other unexpected Sex Accessories like candy nipple tassels, Handcuffs and garters. A chill shiver runs down the spine, isn't it? Now hide that surprised look of yours and start preparing for the special gift for that special occasion. This is going to make the day a really memorable one for both of you.
Comments (0)