Colors of Rainbow This Valentine's Day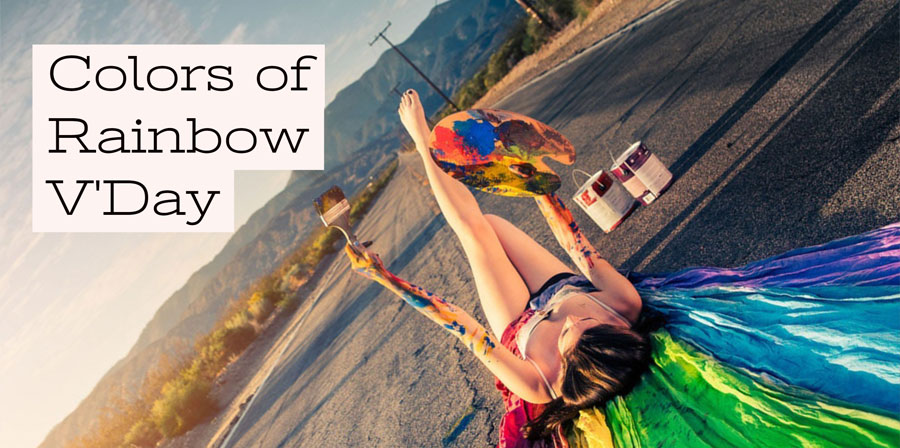 Wouldn't it be nice to wear colors of the rainbow this Valentine's Day instead of the same old sensual colors like red and black? We should all try something different and goofy every once in a while. Find out how the rainbow colors accentuate your body when you wear them in your lingerie:
Red
Since red is the first color, let's begin with red. Red is, undoubtedly, one of the hottest colors but if clubbed with lace, it makes up for the Most Beautiful and Sexy Lingerie, enough to swoon your man off of his legs and make him bow down before you begging for some action. The color red is one hot color. *sweating*
Orange
Next, comes the color orange. Orange can be both sexy and cute at the same time. It will suit the best with Baby Doll Lingerie. The cuteness and hotness will just overflow so much so that your partner will not be able to keep it in his pants for too long. The lace and transparency will kill your partner. You can use some garters and heels to go with your look and complete the attire with those. They make the perfect prop for bed. Heels are always preferable because high heels make everything sexy.
Yellow
Yellow, lace, and straps are the complete killers or even a satin babydoll for that matter could be extremely hot. Not even an air conditioner will help your partner stay warm with the silk, lace, and straps that show off almost all the parts of your body.
Green
A sexy hot emerald green, if matched with black, will blow up your partner's mind especially if lace is added to the mix. The emerald green will go best with a corsage; an emerald green corsage with black lace over it is a match made in heaven just like you and your partner and to keep it going – dress up sexy.
Blue
Blue is another hot color for lingerie. Be it any style of lingerie or any prop of the same color, the man is going to want you in bed just as immediately as he sees you. Blue lace lingerie, corsage, corset or blue anything is just going to be the best choice for you. Blue should always be matched with black. So if you are wearing any blue lingerie, make sure that you own a pair of killer black heels and Garters Belt Set. This way, we haven't completely ticked black off the list.
Indigo
How about you tease your partner with this one? Indigo is another hot color. Wear sexy indigo lingerie and overlap it with a sexy lace jacket of the same color. Wear those black heels and just walk towards your partner who will probably be eager to know what beautiful things you are hiding away from him. Tease a little and then show off that sexy lingerie underneath.
Violet
Last but not least, the hottest of all of the above – Violet. The vibrant and sensual color can heat up any moment. Just wear any lingerie in this color and you're good to go!
Comments (0)