Top 5 Nightwear to Shop this Valentine's Day in India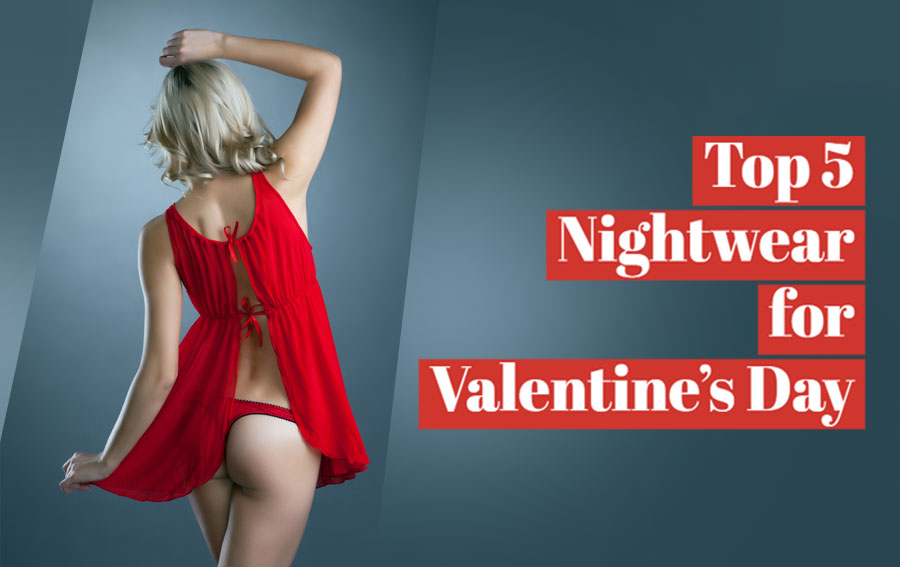 Valentines week is the time when you see red all around. Red, the color of love and romance makes you want to do something sweet for your loved ones. Gifting nightwear is the perfect way to pamper your loved one. If you are a woman and want to surprise your man on each night of the Valentines week, wearing a hot nightwear is also a great option. Shopping is always fun, and if it is done for some special occasion, it becomes even better. Here is a list of 5 perfect nightwear that you need to add to your Valentine collection:
Satin Jumpsuit
A satin jumpsuit is a very comfortable yet elegant looking nightwear to buy for you. The jumpsuit is a one-piece top and pajama suit that can be easily worn to bed. It is available in many patterns to suit the needs of every individual. You can buy a jumpsuit that has sleeves or no sleeves. Since it is Valentine, your sating jumpsuit should be a little fancy. So, try opting for colors like pink, red, peach, cream or black. However, you could also go for the color your partner likes the best. You can choose from the lace or net detailing on the neck and the waste. If you want something hot, try buying body-hugging jumpsuits.
Silk Robe Nightwear
Robe nightwear is a slip dress that comes with a silk robe. A robe instantly increases the look of any nightwear. These can also be bought in different styles and shapes. You can opt for the floor length robes or the knee-length robes. These come with a matching set of sexy panties and bra. The inner slip dress also has various designs. You can buy a frock style or a cut dress that goes perfectly with your body shape.
Pajama and Top Set
A pajama and top set is the most comfortable nightwear you can add to your wardrobe. The pajamas can be a full-length pajama or a short length. It comes in various patterns and shapes. There is a huge variety of the material of the pajama and top as well. Since you are shopping for Valentine, try and buy the set in lace, silk or satin. All three of these add to the beauty of any nightwear. The silk and sating clothes fit perfectly and make you look beautiful.
Sheer Bralett and Panty Set
A sheer lace bralett and panty set are a must for every woman. A bralett and panty are extremely comfortable to sleep in and comes in numerous sizes and shapes according to every woman's taste. You can team your bralett and panty set with a transparent robe of the same color, and you are good to go. The best kinds of panties that go with a bralett are cheeky boy shorts and lacy thongs. However, you can choose the one you are most comfortable in.
Elegant Baby Doll Dress
The baby doll dress never goes out of style. These dresses are the perfect choice for a candlelight Valentine dinner at home. These make you look elegant and are also pretty comfortable to sleep in. They come in different patterns and styles. You can never go wrong with a perfect baby doll dress and a pair of matching heels.
Buy these nightwear and much more for each night of the Valentines week and have fun wearing them. If you are a person who does not have the time to go to the market and shop them yourself, you can always opt for online lingerie shopping. You can easily find all these styles in multiple colors and design options at online lingerie shopping websites like Privypleasure.com. Get the nightwear delivered to your or your loved one's doorstep and have the best valentine of your entire life.
Comments (0)