Lingerie and Your Attitude for Valentine's Day
"Girls in white dresses with blue satin sashes,
Snowflakes that stay on my nose and eyelashes,
Silver white winters that melt into springs,
these are a few of my favorite things."
These are the lovely lyrics from the movie "The Sound of Music".
It describes wonderfully, the subtle desires of every girl. Satin, laces, frills in any shade just soften a girl's mood. Dresses and girls go hand in hand. Be it white, red, black, purple… the list is endless and so are a woman's desires to please her man.
My friend is a very shy girl. She has been planning to buy sexy lingerie for ages now. But, she cannot muster up the courage to find the right size for herself. All she has to do is to go to a decent lingerie outlet, ask some questions and her job would be done!
I guess, most of the women I have met are the same when it comes to lingerie shopping.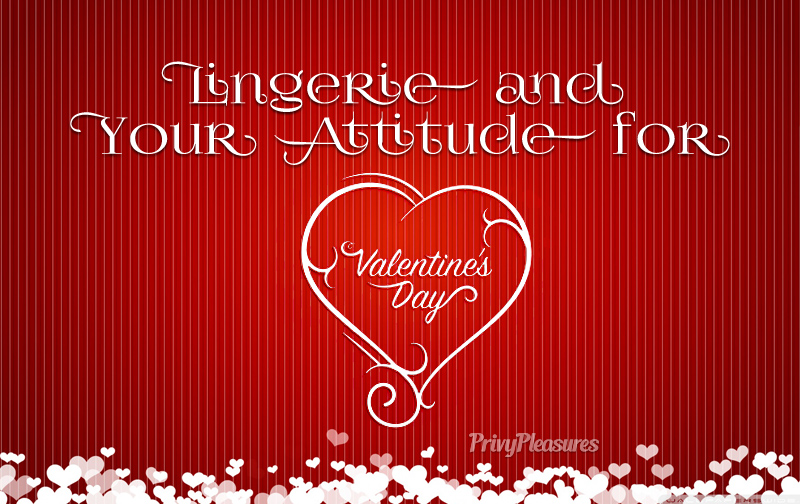 Lingerie and your attitude for Valentine's Day should spice up his mood. So be sure to know the right one which suits not just your pocket but also your style, your attitude and also your comfort. We are sure that our sexy, steamy collections of lingerie will be perfect for doing just that – stir up some romance, rekindle your intimate moments and leave no dream unfulfilled with our wide collection of sexy lingerie!
To begin this wonderful shopping journey, you have to know just what your attitude is. What comes up in your mind when you think of Valentine's Day and yourself?
How do you wish to attract him and catch his attention? You have to remember that you are not just showing your body, you are showing your personality too! Well, let's check out what your personality type is!
Girly Girl – You like it romantic and you like it delicate. You are fresh flowers and fresh air kinda person. You like long romantic drives and you are always an optimist. Soft, mushy music, gentle moves make your heart flutter. For your kind, floral, delicate prints would be the first choice in lingerie.
Glam girl – You are the talk of the town who likes to dress. You are not afraid to speak your mind and your wardrobe speaks for it. Daring straps, funky motifs would be ideal for your kind of personality.
Retro Rocks – You are a lover of classics. Wish you were born in the 40s. Your man thinks you are a classic beauty. Vintage, lace but functional is your choice for lingerie.
Trendsetter – You are always up-to-date with the current fashion trends. Always ready to give fashion advice and would love to try outrageous trends, just for fun! Lacy boyshorts with deep cut bra would be your take on lingerie.
The choice is yours to make!
Here's a word of caution for your man. Sassy or classy, whoever you choose, beware 'cos these are women of substance, be ready and treat them right.
Comments (0)